Description
About the Sennheiser AMBEO Soundbar
A jaw-dropping demo
When I got to hear this sound bar, our trainer played a sneaky but effective trick. He said he was going to put the Sennheiser AMBEO up against a standard system. First, he'd play a Dolby Atmos demo with a standard 5.1.4 system using a receiver, subwoofer, and a bunch of speakers placed precisely around the room.
With three speakers up front, two in the back, and four for overhead effects, the traditional system sounded great — obviously. Then he told us that it was all actually coming from the AMBEO bar, and I saw more than a few jaws drop.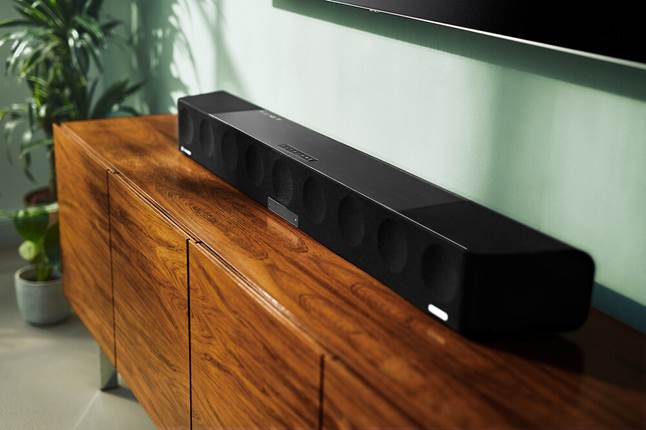 The AMBEO sound bar's brushed aluminum exterior has a graphic OLED display with brightness sensor.
How does it work?
The bar uses room calibration to capture the characteristics of your space and the objects and surfaces in it. Once calibrated, the bar's AMBEO 3D technology can "virtually" place speakers around your room to create an enveloping surround sound experience from a single bar, no matter what you're watching. It sounds far-fetched, but I've heard it, and it knocked my socks off.
More oohs and ahs
When our trainer played the Live Aid scene from the movie "Bohemian Rhapsody," I was impressed by the precise and detailed sound the AMBEO delivered. The near-silent anticipation of a packed Wembley stadium followed by the surge of the crowd as Freddie began to sing gave me the chills.
The bar has 13 individual drivers, including six 4-inch long-throw woofers that play down to an impressive 30 Hz. But I should note that because of the large size of our training room, this particular demo used the bar's convenient mono RCA subwoofer output to bring some extra oomph to the low end.
Dial in the sound you want
You can choose from several preset sound modes, including movie, music, and sports. There are also four AMBEO settings that adjust the amount of 3D sound processing: light, standard, boost, or off. And if you want to truly personalize your audio experience, you can dig into equalizer settings using the Smart Control mobile app.

It's great for music, too
Whether you want to stream your favorite Spotify® playlist, shuffle all your Pandora® stations, or listen to your downloaded songs, this sound bar has you covered with Wi-Fi®, Bluetooth®, and Chromecast capabilities built in.
And the AMBEO bar is beefy — probably the biggest by weight and volume that I've ever seen. That bulk houses a lot of high-quality drivers that provide a depth and clarity to music that you won't find in most sound bars. And the bar's "Upmix Technology" can turn stereo or 5.1 audio into an immersive 3D experience. We got to hear this demoed on "Hotel California" and it was very cool.
Product highlights:

13 built-in drivers deliver 5.1.4-channel sound from a single sound bar

supports Dolby Atmos, DTS:X, and MPEG-H for heightened, three-dimensional soundstage
two 3-1/2-inch full-range up-firing drivers are angled to reflect sound off the ceiling for overhead effects
five 1-inch aluminum dome tweeters
six 4-inch cellulose long-throw woofers

frequency response: 30 Hz-20,000 Hz
500 watts of amplification
brushed aluminum exterior has graphic OLED display with brightness sensor
built-in Dolby® decoding, including Dolby TrueHD, Dolby Digital Plus, and Dolby Atmos
DTS Digital Surround and DTS:X
supports Dolby Vision™
add voice control with a Google Home device (sold separately)
built-in Wi-Fi and Bluetooth for wireless music streaming from compatible smartphones, tablets, and computers
Chromecast built-in for streaming music from the cloud with compatible mobile apps
3 HDMI inputs, 1 HDMI output

one cable included
HDMI connections support 4K video and Audio Return Channel (eARC)

optical digital audio input
analog stereo RCA input
mono RCA subwoofer output for adding your own powered subwoofer
Ethernet port for wired network connection
USB port (service only)
AMBEO 3D technology creates an immersive experience using 32-bit processing and room calibration to virtually place speakers around the room
preset sound modes: movie, music, sports, neutral, AMBEO off, and AMBEO on (light, standard, boost)
Upmix Technology can turn stereo or 5.1 audio into a 3D sound experience
tailor your acoustic experience with the Smart Control mobile app
remote control
includes microphone for room calibration
wall-mount bracket sold separately
49-13/16″W x 5-5/16″H x 6-3/4″D (including feet)
weight: 40.8 lbs.
warranty: 2 years
Our 60-day money-back guarantee
MFR # 508683